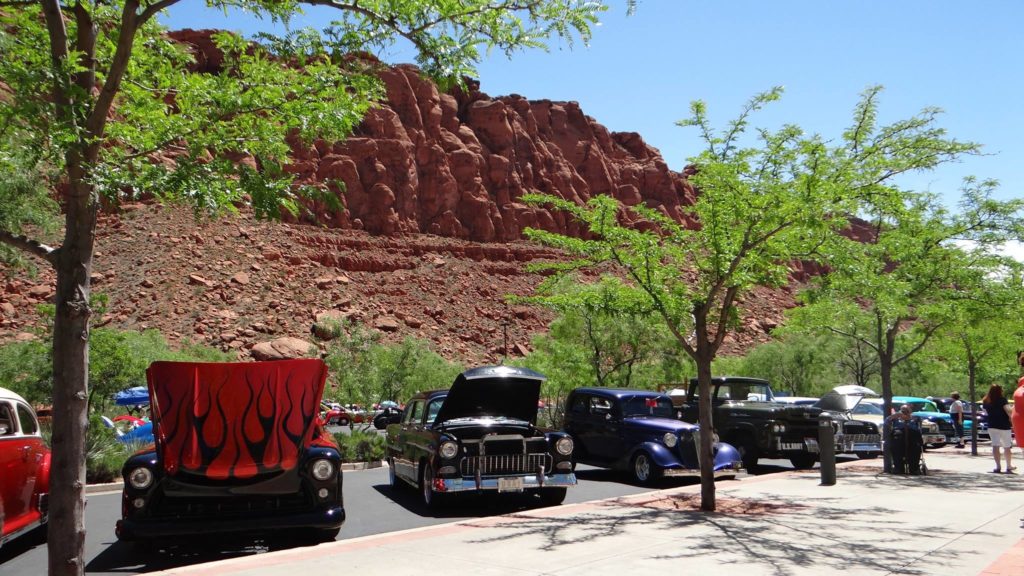 With nearly 500 car shows in Utah last year, it can be hard knowing which one's to attend. Once we hit the summer months, you can expect as many as 15 car shows in one weekend. Because this can be overwhelming, we've put together a list of 2017 car shows you cannot miss. These shows will have variety, great atmosphere's, tons of activities, charity events, and enthusiasts out to have a good time. As a reminder, full information for each show can be found on our 2017 Car Shows Page, including directions, pricing, and flyers. Here are 9 shows this summer that you cannot miss.
Import Spring Showoff – April 9
Maverik Center, West Valley City, 1p-4p
This show is just around the corner and it's about to take over the Maverik Center yet again. To say this is a big show is almost an understatement. Don't believe for a second that this is an import only show because the variety in attendance is a sight to behold. If you're looking for some serious creativity, classic Japanese or European cars, race cars and bikes, and a community of pure enthusiasts, put this show on your calendar.
Each year this show gets bigger and bigger. How big? How about over 2,000 cars and 6,000+ attendees. This brings in even larger vendors, more unique builds, bigger activities and even bigger venues. Not only that, but a phenomenal raffle benefiting Primary Children's. It's really a show for all ages and for car enthusiasts of all kids. We've been going for years and hope to see even more new faces there again.
Desert Rodder's Tuacahn Car Show – May 13
Tuacahn Amphitheater, Ivins, 8a-3p
Tuacahn Theatre is located in Ivins, UT and nestled into a beautiful red rock canyon. Not only can you go enjoy theatre productions all year, but there is a Saturday market. Each year the Desert Rodder's club host a car show in the parking lot of the Amphitheatre and boy is it a good time. The market and car show are surrounded by the desert beauty of Southern Utah and the extremely colorful red rocks. What tops this show off is the scenery of some incredible unique and rare cars you don't see in the other shows listed here. This is one of a few car shows in Utah where the location and scenery play a role into the atmosphere of the show.
This show is absolutely worth a weekend getaway (if you don't live down that way). Tons of great rides, incredible location, good food, and a market are what all convinced us to add this show to our list.
UVU Auto Expo & Swap Meet – May 20
Utah Valley University, Orem, 8a-5p
Plain and simple, this is a fun show. Likely the largest show in Utah County, it offers everything. You can expect a huge mix including cars, trucks, 4 x 4's, customs, street rods, original/restored, muscle cars, sports cars, motorcycles, unfinished vehicles, exotics special interest, etc. This also includes some of the vehicles the UVU Auto Department have been working on. There are tons of vendors, cars from personal collections, great food, a huge raffle and one of the best show atmosphere's you'll experience this year.
The day before, May 19, there is a social and pre-show with prizes, games, awards, music by JC Hackett and a BBQ. Donations are welcome that will go towards the UVU Auto Scholarship program. Being in May, this show runs the chance of seeing rain, but it always goes on. Rain or shine, you can expect a good time.
Make A Wish Car Show – June 4
Liberty Park, SLC, 11a-4p
The Make-A-Wish foundation is one we are all familiar with. Being able to help a child out with his or her one wish is one of the greatest feelings. This car show is a way our community can give back to help out this amazing organization. At last year's event, a wish was granted at the show for a young boy. Each year, donations are collected and a raffle conducted. This show alone nearly brings in enough donations to grant a complete wish for a child.
Sometimes car shows are about the cars, but often times, they are a chance to forget about ourselves and focus on the needs of others. This also is a great family day activity. There is a fantastic park nearby, plenty of walking trails (Liberty Park is not small), great music from Rockin Hotrod Productions, and enough shade to stay cool in the hot summer sun.
"We grant the wishes of children with life-threatening medical conditions to enrich the human experience with hope, strength and joy."
Sounds of Freedom – June 10
Layton Commons Park, 9a-4p
Sounds of Freedom first started in 2002, created just months after 9/11. L.T. Weese founded the festival as a way to say Thank You to our military and veterans. Each year roughly 500 cars and 200 bikes show up to Sounds of Freedom. Because the festival focuses on our local heros, there is a good turnout of military related vehicles on display. There are not many shows where you can get a close up view of active military vehicles and interact with the military members that use them.
Sounds of Freedom is held at Layton Commons Park and runs nearly all day, 9a to 4p. Besides an amazing display of bikes, cars, and military vehicles, you will also be treated to a flag ceremony at noon, music from JC Hackett, 120 vendor booths, Rat Fink artist, gun giveaways, and five live bands providing some great jams throughout the day.
Sounds of Freedom 2017 will also be taking donations for Vietnam Veterans of America. The money will be used to build a 120 yard Vietnam Memorial Wall in Layton.
Car Shows for a Cause – June 17
Weber County Animal Shelter, Ogden, 10a-2p
This show gets bigger and bigger every year and is the only show on our list that is a charity event for pet adoptions. It is a fundraiser for the Weber County Animal Shelter and nearly each year they are able to collect over 5,000 lbs of dog and cat food, and other items to benefit the pets in the shelter. This is huge because it helps the shelter get by until Christmas. There are A LOT of raffle prizes, tons of awards, cat and dog adoptions, music by BJ4DJ, and food,
"There are lots of shows who help all kinds of folks and organizations for all kinds of reasons, but the animals don't have a choice of why they are homeless and they need us to help them. I just like to see them get a chance to belong to a family and not live in a cage. Its always nice to see folks adopt a pet vs. buying one." – Barb Jensen
Cache Valley Cruise-In – June 29-July 1
Cache County Fairgrounds, Logan
The Cache Valley Cruise-In is the largest 3-day car show in Utah. Consider it to be a summer vacation. There is so much to do over the 3-day event that we don't have the space to give you a full schedule. Need some reasons to attend? How about a poker run, sock hop, Women's World, cruise to Bear Lake, lot's of food, kid's activities, Friday night concert with Night Ranger, a car show with over 800 cars, and a giveaway car.
Yup, they give away a car, every year since 1985 the association has prepared and raffled off a car. This year you can get your hands on a gorgeous 1937 Ford Pickup. The Cache Valley Cruise-In is about as big as they come.
Magna Labor Day Car Show – Sept 4
Magna Park, 12p-4p
Is there a better way to spend a holiday weekend than at a car show? It almost feels like Magna Park can't hold the amount of cars that attend. The Manga Labor Day show really brings in a great variety. If you plan to attend this year, as you should, plan for several hours. Why? You will have over 600 cars to enjoy, food trucks, vendors, one of the best raffles around, music by Rockin Hotrod Productions, and a large playground for the kids. This is one of those shows that is great to bring the whole family to.
Peach Days Car Show – September 9
Watkins Park & Pioneer Park, Brigham City, 10a-5p
This annual car show is hosted by the Bonnevills Rods & Customs Car Club in Brigham City. It claims to be the largest free car show in the West and with over 1,000 cars in attendance each year, it really feels like it. It also pulls in crowds from the surrounding states, giving you a reason to come back every year. You truly need all day to check out all the quality and unique rides in attendance.
The show is held at Watkins Park & Pioneer Park which both provide plenty of shade. And because it's a part of Peach Days, the activities are unlimited. It's got everything you need to dedicate your weekend in Brigham City.
Willie Unity Car Show
Location and date TBD
There are a lot of charity and fundraiser car shows every year. Each are for great causes and help with a good cause. The Willie Unity Car Show certainly falls into this category, but it's different. It's very personal. Jaymes Martinez started this show for his dad who has passed away. His love for cars and his character are deeply missed in the community, but carries on through this show.
Unity is the theme of this show. It's purpose is to celebrate the car people. A car is a car, a truck is a truck, a bike is a bike. New, old, restored, unfinished, American, European, it doesn't matter. We love this show because it's purpose is the same as ours; to unite car owners across Utah, regardless of what you own or drive because we each have our passions and interests, and they should all be respected. Add in some great music and a raffle and this is a show you shouldn't miss.
Bonus Shows:
Salzsee – August 19, Solitude | Time and schedule are not yet announced

Angel Hands – July 15, 9a-3p | Copperton City Park

Day of Hope – August 12, 11a-5p | Veteran's Memorial Park

Utah Volkswagen Classic – September 16, 9a-2p | Riverton City Hall Park – 2015 Show Images
Did we miss any that are 'cannot miss' shows for you? Let us know in the comments.