OREM – Local car enthusiast Chris Redd noticed a strange 3-wheeled vehicle over the weekend in Orem, Utah while his mom took video of the mystery machine from her vehicle while driving.  "Wow, it's all covered up like a prototype.  As I kept watching the video I noticed it had a front similar to that of a Porsche or Volkswagen but I knew it couldn't be a Porsche", says Chris.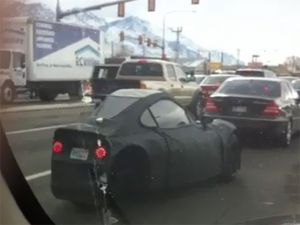 The weirdly constructed tricycle, if you want to call it that, appeared to have a Porsche-like front end, but is very misleading with a very skinny, pinched by an ogre, type back end with only one wheel.  "We don't get many test cars in Utah and it isn't something that Porsche would likely build", says Chris of the prototype.
Taking a look at the videos posted below you can see the Porsche-like front end, but it just seems too far-fetched of a project for Porsche, so the thoughts get raised to a possible Can-Am Spyder home project or other ATV-styled machine.  It does, however, appear to be a test model of some sort as the car is wrapped to hide any indication of curves or design.
So what is it, a wannabe Porsche, an off-road vehicle wrapped up for Christmas?  How about a Vanderhall?  You heard me, Vanderhall [insert pun here].  Vanderhall Motor Works is a Utah based company that is developing these hybrid sports test mules.  Unfortunately they don't have a name for their prototype that we know of but it will be powered by a turbo ICE with no hybrid or assist.  They are speculating it to have around 200hp and 200lb-ft of torque and will be mated to a six-speed auto shift transmission.  I hear another hybrid sports car coming on.  Sounds compelling (watch all four wheels Fisker).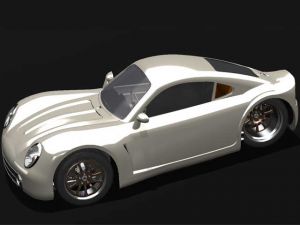 The prototype testers have been able to record a time of 4.5 seconds going from 0-60 mph.  The vehicle weighs in somewhere between 1,300 – 1,500 lbs and can be compared to the Mini and the SmartCar.  What about the seating layout?  Think of an airplane; a single seat in the front and a jump seat behind it.  It's sure to be a back seat view your date won't want to remember as the best first date ever.
Vanderhall also claims that this 3-wheeled sports prototype can illustrate the same stability of any four wheel sports cars because of its low CG and weight distribution.  And of course, the most important factor, an average of 40/60 mpg city/highway.
All in all, here comes the Vanderhall.  It is planned to be launched sometime in 2013 and is sure to turn heads but probably not the wallets of the vander-pincher's, I mean, penny pincher's.