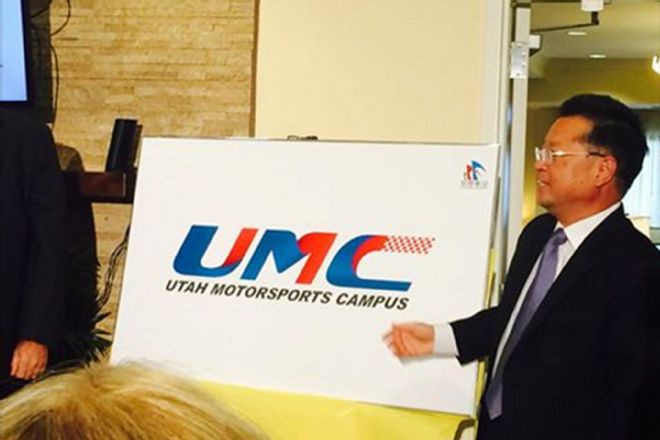 In May, we got word that Miller Motorsports Park would be seeing the end of its days as the organization announced it would not renew their lease at the end of the 2015 season. This immediately sent us all into a frenzy, wondering what would happen to the greatest venue in the state of Utah. Rumors started flying and people started making plans to enjoy an event at MMP one last time.
On Wednesday, Tooele County officials announced the sale of the 511-acre MMP for $20 million to Geely Automotive. No need to hold our breathes any longer as Geely Automotive plans to keep it planted right where it's at. Relief. To be specific, the park will be sold to the MiTime Group, out of China. MiTime Racing in reality is a small part of Geely Automotive. Geely won't be running operations themselves, but instead the subsidiary will oversee the park once the acquisition is complete. Jalopnik was emailed a note from Geely further clarifying the situation:
Zhejiang Geely Holding Group (ZGH) is the mother company to four independent subsidiary companies: Geely Auto Group, Volvo Car Corporation, London Taxi Company and MiTime Group. Another company under MiTime, NARCAR, operates various motor sports activities in the Chinese market such as Formula 4 and grass roots racing projects.
So new owners out of China, but what does that mean for the park and Utah enthusiasts? MiTime is committed to improving the track and generating revenue to up to $1 billion over the next 25 years. MiTime plans to make significant improvements to the facility as well as making it their golden child for future tracks in China. Tooele just became a lot bigger.
Included in the business plan is a renaming of the facility. After October 31st, Miller Motorsports Park will be known as Utah Motorsports Campus (UMC). Who's ready to be a part of the 2016 UMC graduating class?
So what plans does the MiTime Group have in place?
Manufacturing of racing cars and testing them at the park.
Development of degreed classroom education and training programs.
Develop and operate a comprehensive driver training program for road-racing, American-styled oval track racing, and off-road racing.
Design and produce hill-climb trucks and oval-track race cars on site.
Execute significant upgrades to the facility. Estimated investment: $6M – $8M
Construct a 3/8ths-mile oval track with stadium, Rally-X course, and potentially a drag strip.

Click on the images below for more details.
This purchase will play a key role in the Utah automotive scene for years to come. With the planned developments and improvements, UMC won't just entertain enthusiasts, but educate and train those who want to be more involved in this industry.
What feature(s) are you most excited about?  Let us know in the comments.